It was one of those perfect winter days in Vermont; the snow had been falling all night and was continuing into the morning, the flakes coming down so hard it looked like a scrim passing over the landscape. I looked out at the thermometer which read ten degrees. Our picnic table bore a bowler hat of white. When I say it was one of those perfect days it was, in part, because we didn't have to drive to work in the storm. I sat at the counter in our kitchen with a cup of peppermint tea and watched it unfold. Warm next to the wood stove, our dogs splayed at my slippered feet, I let it be.
When we kiss each other "goodbye" in the morning Paul's commute is about 30 yards to the cello shop while mine is a no-boot-required 20 feet to the studio.
I have friends and family on both sides- those who work in an office-type setting and those who work from home. Not that long ago the only people who worked from home were moms and/or artists. Finally the workplace is beginning to catch up, realizing that there are many ways to get things done and many spaces that people can get work done from. The benefits of a happy worker are becoming more and more apparent to companies. Now people work from their computers at home. I know several people whose home office is a plane ride away. For a weekly online meeting the top half of them is in presentable office- fashion while their bottom half sits comfortably in baggy sweats and all is well. On the other hand they not only don't share lunch with their co-workers, they often don't even know what their co-workers look like.
When you work solely for yourself you not only dictate the hours of your business but you also dictate the philosophy and the execution of it. When someone calls Paul Perley Cellos they always speak with one of the owners of the company - someone invested in its success which means someone invested in the satisfaction of that customer. Now, like with the weekly online meeting attire, the fact that we are in our kitchen means that you might be talking cellos with me while I'm washing dishes in my pajamas.
This, of course, is the double edge of the sword. Working for yourself you are the sole provider of your income. There is no 401K plan, no vacation or sick time, no dental plan, heck, no insurance and... no set hours. I might decide not to begin working until noon on a certain day that I have a dental or car appointment but I don't get paid for the hours that I don't work and I have to make up for it somewhere which means when people are sent home from work because of that snowstorm we talked about, their day is done. Mine is not. If there are students needing help via email, my practice, or phone calls at 8pm- I'm working. In my pajamas again, but I am working. If we get a call from someone who would like to look at an instrument and can only come on a Sunday...odds are good that we'll make that happen because we won't get that sale unless we work when there is work. We believe in the farming adage 'making hay while the sun shines.'
Flip it again though and we see that while there are no retirement accounts, sick or vacation days, there is also nobody who will downsize our business unless it is one of us. If one of our kids was sick when they were in school, there were no daycare hassles and we made every basketball game. If it has been raining all week and the sun suddenly comes out - so do the bikes. In the summer we might be talking shop but our feet are in sand, our mouths full of crackers and cheese.
The bottom line is that the people we have to trust are us. When you choose to work for yourselves there has to be confidence in your ability to take care of things because we are the bottom line. Fortunately that is our strong suit (and the only suit you will see us in): Paul and I have faith in us. We share the philosophy that a good business is built on the trust between the customer and the shop.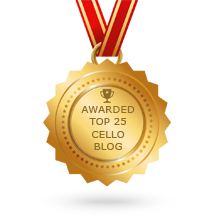 I know it is a rare thing for a happily married couple to also be happily married business partners. So many of my friends choke on their salads at the idea of working with their partners. It does give a whole new meaning to Yin and Yang. It works for us because we really do enjoy being together- but we also recognize that we bring very different things to the table. Paul is a wonderful negotiator, he is fair, kind and is able to see all sides. I can run out of patience more easily (I can hear you kids…): if I'm not doing well in Backgammon, I tend to tip the board over. However, if someone has "forgotten" to pay us rent on an instrument or needs to be "reminded" that they owe us for a repair...I'm your gal!! Yin and Yang.
In the end we realize that, as my sister so aptly puts it, "we only get one spin at the dance." We get one chance at following our true passions and creating our own destiny. When someone says "I'd love to work for myself, but what about security?" We've seen too often that security is a myth. Every day we hear of companies laying off employees who have dedicated their entire adult working lives to that company. Years of retirement savings stolen from people just when they need them the most. My boss, while hard on me, is also fair and kind to me because my boss is me.
You can keep your gold watch and dental plans. We will probably always have to work, but the bonuses - all of them - really belong to us.
Melissa Perley